Burson Audio is challenging the conventional and pushing the boundaries of audio excellence through innovation. A decade ago, we argued against using IC opamps on the audio signal path. Today, our discrete audio opamps are industry benchmarks. [+] Learn More
In 2017, we had a breakthrough in power supply research. It led to the development of our proprietary Max Current Power Supply (MCPS). Superior to both transformer-based and conventional switching power supply designs, the MCPS is featured in all Burson products, winning awards and leaving competitors in the dust. [+] Learn More 
We don't advertise, buy reviews, nor attend trade-shows, and we certainly don't markup prices to cover such costs. Instead, we build products that speak for themselves and build relationships directly with fellow audiophiles. We also work with selective, like-minded audio stores around the world which contribute to their local audio community.
The Best DAC / Headphone Amp / Preamp
Being the best of its time. This has been the sole design goal of each Burson Conductor since 2007. The C3 Reference took 3 years to built and it leaves the competition for dust.
The SABRE32/ESS9038Q2M DAC and XMOS USB receiver chips are the most advanced and expensive in the industry. There are two ESS9038 DAC chips in our C3 Reference and its USB receiver comes with a customised driver by Thesycon, Germany. The result is unsurpassed processing power, perfectly playing back DSD512 and 32bit/768khz audio.
The C3X Reference also features a Bluetooth 5.0 receiver Qualcomm/CSR8675 [+] with an aptX HD audio & LDAC codec. It pushes Bluetooth playback beyond CD quality and ease of use to the highest level.
Max Current Power Supply (MCPS) [+] raises voltage frequency from 50Hz to 170kHz, pushing noise beyond human hearing. Its low impedance ensures abundant and instant energy for output transistors. The C3X Reference uses 5 sets of MCPS: Which means, Display/Functionality, DAC, analouge left and analouge right are all separately powered.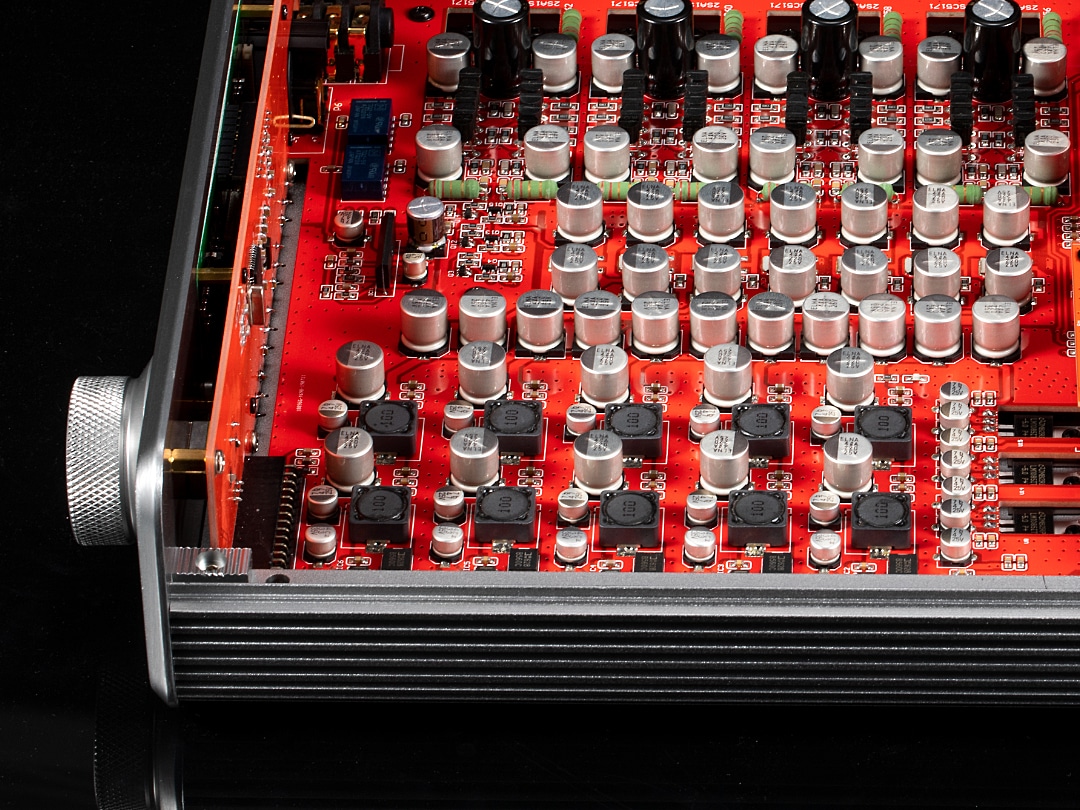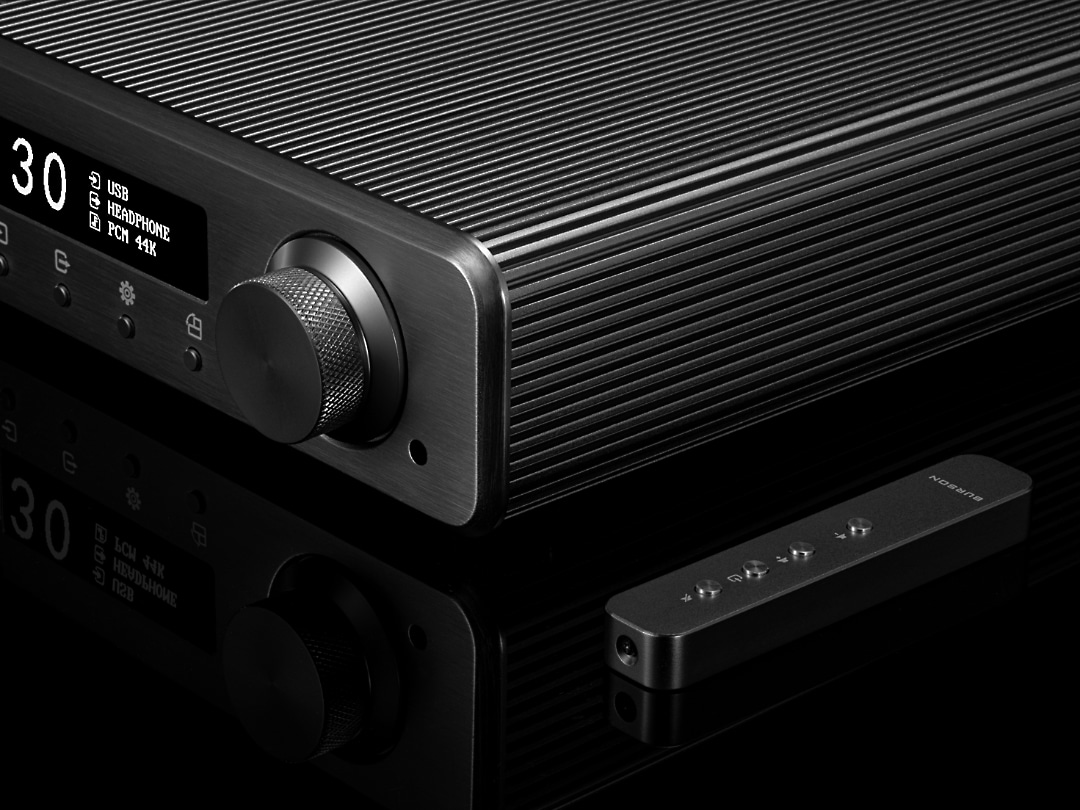 Let's face it, most audio equipment cases are ugly and impractical. They usually have visible screws everywhere, sharp corners and boring colours. Class-A amplifiers even have finger cutting heat-sinks! They diminish the aesthetic of any living space especially modern desktops where every other electronic is slick and refined.
Made from high-density aluminium and electroplated to space-grey. The Cool Case [+] has only 4 visible screws under its belly. It is also a unified heat-sink that is 300% more efficient than previous Conductors. It is audio jewellery at its finest and It looks and plays very cool.
The all-new OLED screen and interface program deliver a calming and intuitive user experience. Its machined solid aluminum knob offers the fines control and feels luxurious.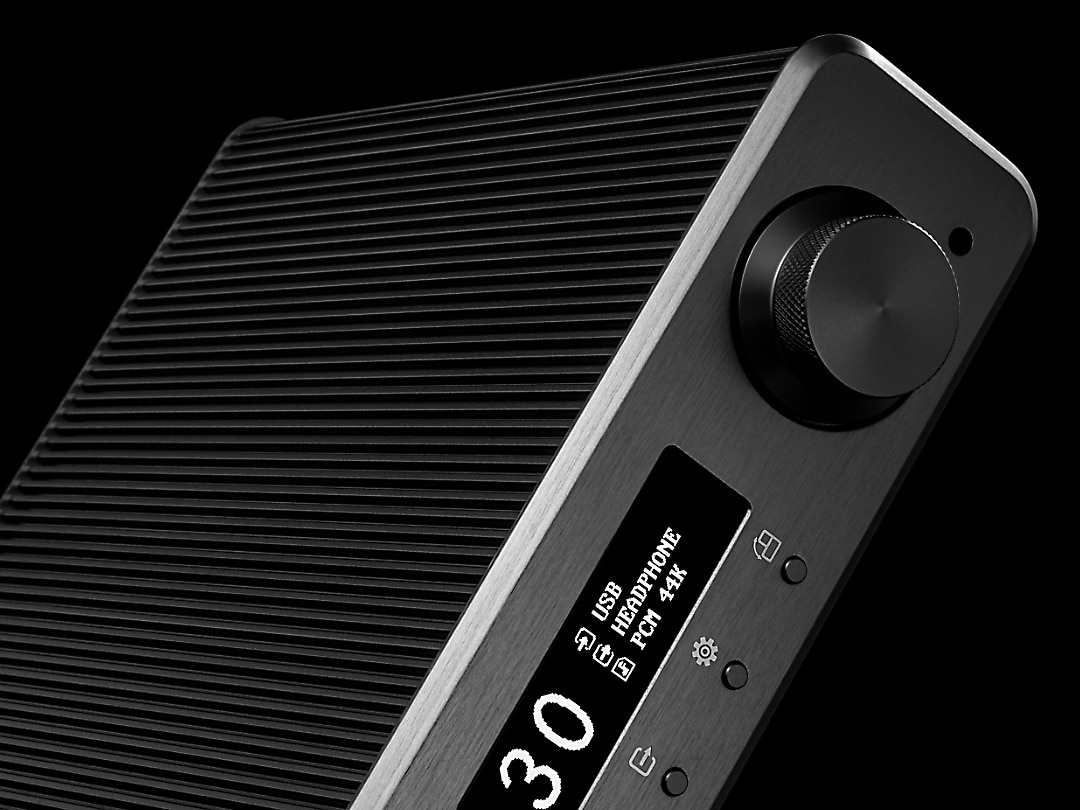 Through a quieter, darker background, microdynamics propels forward by the sheer energy of the Conductor 3X.  It lets you dive even deeper into the miracle we called music.
When listening to Sinner's Prayer by Ray Charles and B.B. King.    Ray's authentic vocal dramatics, frail yet still capable of true emotion and flashes of fire like a dimming star mixing with King's stinging guitar and barking vocals  Two partners in soul and titans of music, trying to top each other, ripping the joint apart and put it back together again, competitive yet completely in tune and sharing their love for music.  A perfect balance of soul, love and heart displaying in full gory.
| A | B | C | D |
| --- | --- | --- | --- |
| Measurement | | | Package Content |
| Input impedance: | 40 KOhms | | Conductor V3 Reference (R-180) |
| Frequency response: | ± 1 dB 0 – 58Khz | | Remote Control |
| THD: | <0.0015% | | USB Cable |
| Output impedance (Headphone Amp): | 0.5 Ohm | | Power Cable |
| Output impedance (Pre Out / DAC Out): | 1 Ohm / 25 Ohm | | 24V Power Unit |
| | | | |
| General | | | |
| Inputs: | 2 x RCA line-level input, USB, Optical Toslink, BlueTooth 5.0, microphone | Weight: | app. 5 kg |
| Outputs: | 1 x RCA Pre Amp, 1 X Line Level DAC Out, 2 x 6.3mm Headphone Jack | Dimensions: | 255mm x 270mm x 70mm |
| | | | |
| Impedance (Headphone Jack) | Power | Signal to Noise Ratio | Separation |
| 16 Ohm | 7.5W | 95db | 99% |
| 32 Ohm | 5W | 97db | 99% |
| 100 Ohm | 1.75W | 94db | 99% |
| 150 Ohm | 1.16W | 95db | 99% |
| 300 Ohm | 0.58W | 95db | 99.50% |
| | | | |
| DAC Spec | | XMOS USB Spec | |
| Channel Separation: | 142 dB @ 1KHz, 135 dB @ 20KHz | Desktop OS: | Windows XP, 7, 8, 10 Mac OSX |
| THD+N: | 0.0005% @ 1KHz, 0dBFS | Desktop OS: | iOS* , Android (OTG support) |
| COAX & Toslink / SPDIF : | up to 24bit 192K | PCM Support: | PCM ≤ 768kHz @ 16, 24 or 32bits |
| | | Native DSD: | Native DSD 64 / 128 / 256 / 512 |
| Bluetooth Input | Bluetooth 5.0 aptX HD (Qualcomm CSR8675) | DSD over PCM: | DoP64 / DoP128 / DoP256/Dop512 |