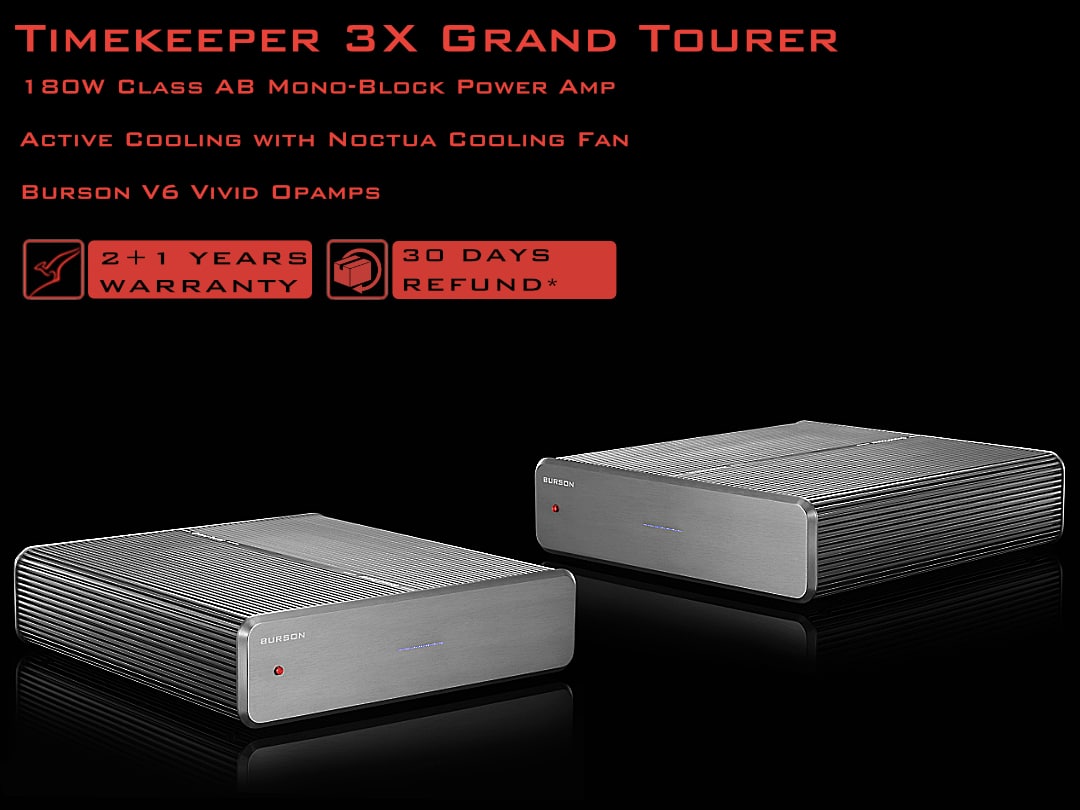 Breaking the Neuro Association
Old-school car enthusiasts associate the deep rumbling sound with performance. Furthermore, we assume a barista with a leather apron and arm tattoos makes better coffee. Just like the long-standing reputation of Class-A and Class-AB amps. However, traditional designs have resulted in bulky, eyesore amplifiers that clash with modern living spaces.
Burson's revolutionary power supply technology enables our amps to eliminate the need for transformers, linear power supplies, and large power caps, enhancing both aesthetics and sonic performance. Our amps outshine transformer-based competitors in terms of both value and performance.
Introducing the Timekeeper GT, our working-class hero, poised to challenge industry elites and shake up the speaker amp market.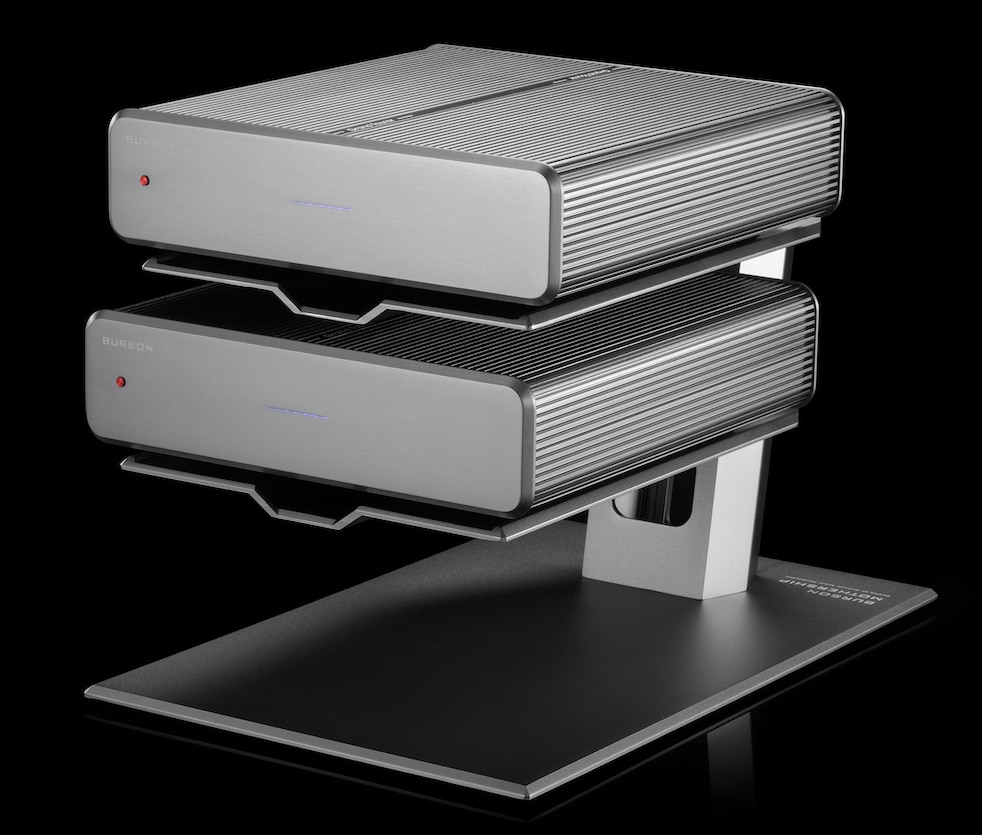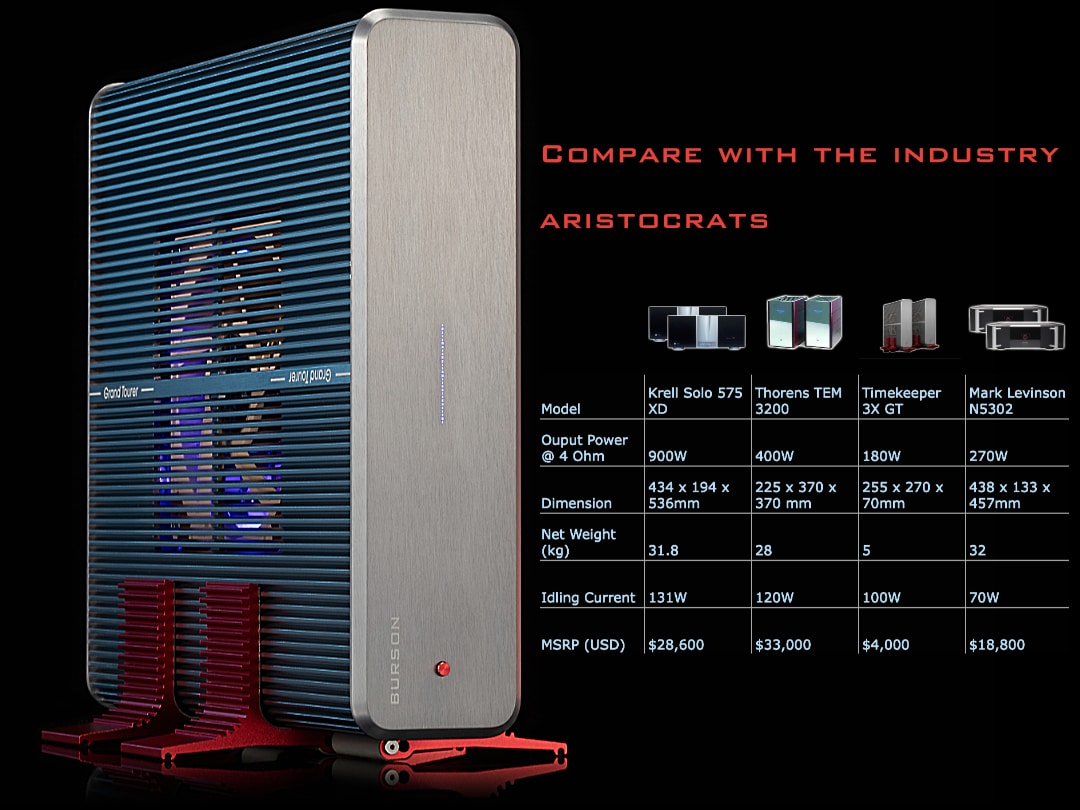 The Hushed Performance Indicator
Burson Audio cherishes the unparalleled audio experience that Pure Class-A amplification delivers, free from crossover distortions found in Class-B or Class-D amps. Yet, Class-A amplifiers face challenges like power supply stress and heat dissipation, leading to bulky designs and limited driving power.
Our Timekeeper 3XGT, a Class-AB amplifier, blends Class-A's initial wattage with Class-B's efficiency for more powerful output and lower distortion. Leveraging our unique Max Current Power Supply technology and innovative cooling, the Timekeeper 3XGT offers impressive Class-A wattage in a sleek design that elevates any living space.
Idling power is a crucial performance metric for Class-AB amps with similar outputs. Higher idling power means more pure Class-A output but traditionally comes with larger transformers, heat sinks, and higher production and transportation costs. Thus, only elite amps highlight this feature, while most manufacturers stay quiet.
The TK-GT boasts 100W at idle, devoting the first 30W to pure Class-A, achieving rich vocals and brilliant highs usually reserved for top-tier amps. The remaining 180W drives speakers to their full dynamic potential.
Perfect match with any system
In traditional high-end audio systems, a preamp is the central component, connecting inputs and controlling volume. Nowadays, most DACs and portable players have built-in volume control, raising the question of whether a dedicated preamp is still necessary.
One lesser-known function of a preamp is to add gain to standard DAC output (6dB single-ended, 12dB balanced), which few DACs and no portable players can achieve without an additional buffer stage. This extra stage increases product size, cost, and potential distortion, but without the gain, the power amp cannot reach its peak power.
Enter the Timekeeper 3X GT, featuring an independently powered, fully discrete input buffer stage. If you don't have a preamp, activating its buffer provides the necessary gain for optimal system performance, making the Timekeeper 3X GT an ideal choice for any audiophile setup.
By transitioning from the LM317 low noise regulator (120µV) to the more advanced LT1963 (40µV), we have achieved a purer, more stable power supply for its internal components. In addition, this innovative power supply design also features modular elements, enabling effortless future upgrades.
Our Silent Power modules form a critical part of our MCPS. Enable our Grand Tourers to attain a remarkable Signal-to-Noise Ratio, delivering an unrivalled audio experience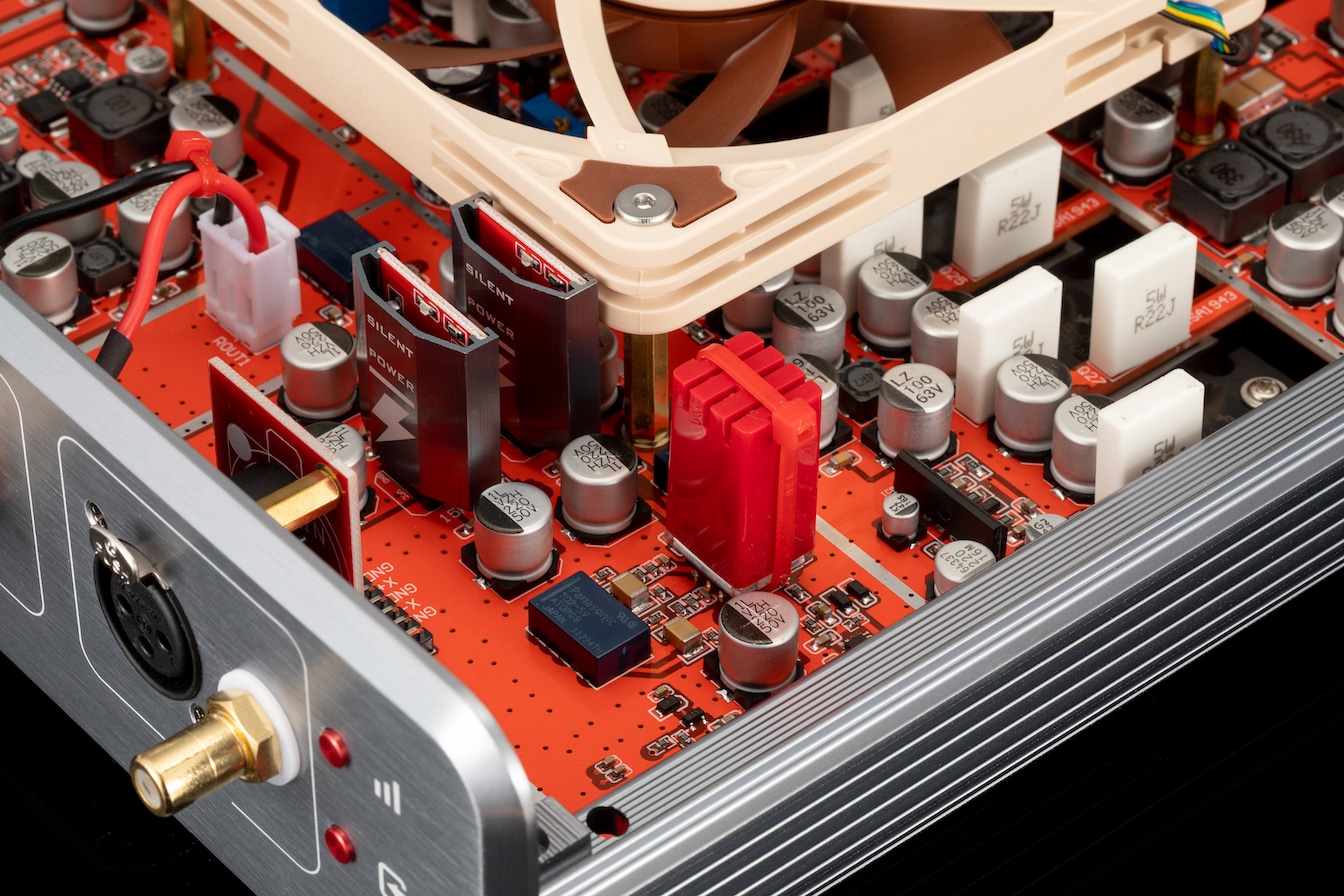 The Timekeeper GT boasts a fully discrete design, eschewing integrated circuits (ICs) in its audio path. Our Vivid discrete opamp imparts the signature Burson sound—a detailed, textured, and layered auditory experience.
Featuring direct coupling circuitry and a fully differential input stage, the GT bypasses transformers and coupling caps in its signal path, unlocking the pinnacle of dynamic response.
As an independently powered monoblock, the TK-GT eradicates cross-channel interference, unveiling an expansive soundstage against a pitch-black backdrop.
This level of audio engineering is truly a testament to our unyielding passion for sound!
Picture a soundproofed home theater, with colossal cables winding across the floor alongside colossal monoblocks, each perched upon bespoke marble slabs. This was once the pinnacle of an audiophile's dream.
Today, you can achieve that same auditory excellence without compromising aesthetics, thanks to technological advancements. Imagine a more harmonious living space. Welcome to a new era of music appreciation—experience the Timekeeper Grand Tourer's exceptional performance.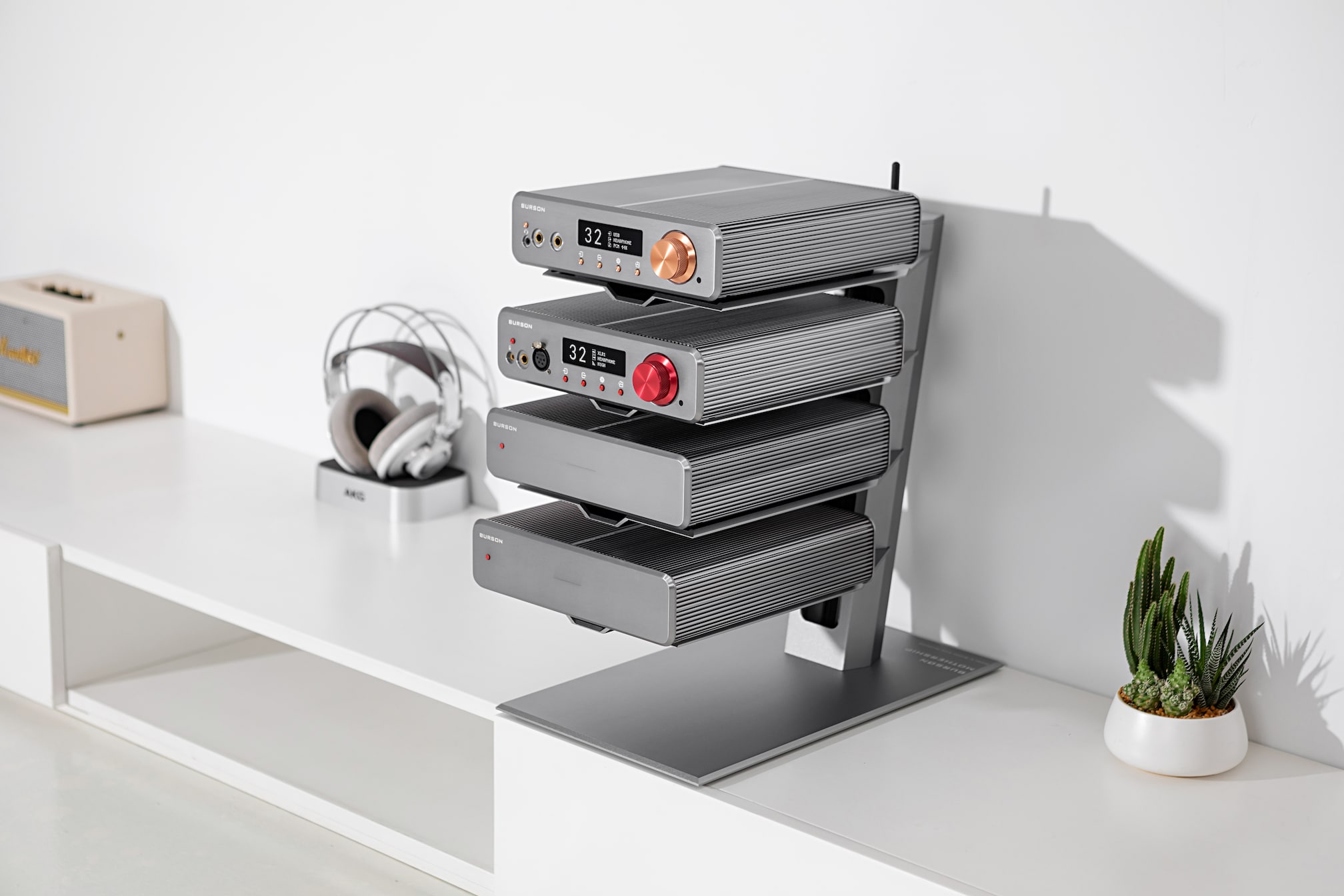 | A | B | C | D |
| --- | --- | --- | --- |
| Measurement | | Package Content | |
| Input impedance: | Single-ended: 100 kΩ / Balanced: 200 kΩ | Timekeeper GT Mono Amp (R300) | |
| Frequency response: | 20 Hz to 20 kHz | Burson Super Charger 32V / 6.5A Power Unit | |
| THD: | <0.03% @ 1 kHz | Cool Stand (GT Red) | |
| Output impedance | <0.015Ω, 20 Hz to 20 kHz | 12V Trigger Cable | |
| Signal to Noise Ratio | 108db | | |
| High Gain: 4 Ohm - 8 Ohm | 180W - 110W | | |
| Low Gain: 4 Ohm - 8 Ohm | 55W - 30W | | |
| Standby Power | >1W | | |
| Idling Power | 100W | | |
| Maximum Power | 210W | | |
| Gain | 29dB | | |
| | | | |
| General | | | |
| Inputs: | 1 single-ended RCA / 1 balanced XLR | Weight: | app. 5 kg / 11 lbs |
| Outputs: | Speaker binding posts (+ / - ) | Dimensions: | 255mm x 270mm x 70mm |
| | | | |
| | | | |